Determining who is liable for a truck accident in Detroit is not as easy as one might think.
Truck crashes are very different from automobile crashes, so figuring out who is liable is not as simple as just looking for the person driving the car that hit you.
It's true that the truck driver will likely be at the top of the list for people who are liable for the crash.
But there are many others who may also share in the liability, such as the trucking company, the owner of the truck and/or the trailer, the maintenance company, and more.
That is why it is so important for you to talk to to have an experienced Michigan semi truck accident lawyer.

He or she will know how to uncover all of the parties who are responsible and legally liable for the truck accident that caused your injuries.
Plus, because the attorneys at Michigan Auto Law specialize in this area of the law, they will have the experience, skills and "know how" to identify all of the layers of insurance coverage that the liable parties can use to ensure that your settlement reflects the true dollar value of your case.
To learn more, check out my page on Michigan Truck Accident Liability.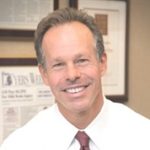 Named a "Leader in the Law" and "Lawyer of the Year" by Michigan's largest legal newspaper for his record-breaking auto accident verdicts, settlements and advocacy work in preventing wrecks, Steven Gursten heads Michigan Auto Law—a firm dedicated to serious motor vehicle accident injury cases and wrongful death lawsuits.