There is a risk of electrocution and electric shock when there are downed wires after a car crash in Detroit.
Whether you are a driver or a passenger of a vehicle or whether you are a pedestrian, bicyclist, motorcyclist or bystander, you are in danger of suffering serious or potentially deadly injuries from contact with a downed power line or with the rippling rings of voltage that it gives off.
What most people do not know is that just being within 35 feet of an electrical wire can cause electrocution or electrical injury.
Jeff Feldman, an electrocution accident lawyer who has focused his career on electrocution death and shock injury cases explains that this phenomenon which is known as "step potential" means that as you walk or "step" toward an electrical wire that has been knocked down you are entering invisible, rippling rings of increasingly higher voltage. This can cause an electrical current to surge through your body.
Safety steps to take:
Call 9-1-1
Call the power company
If you are inside your vehicle and the electrical wire is on your car or your vehicle has otherwise made contact with the line, wait in your vehicle until the power company workers arrive and until they tell you it is safe to exit your vehicle
If you are not inside a vehicle, then (a) shuffle (putting feet together, keeping them in constant contact, shuffling one foot the length of the other and always keeping both feet on the ground) or (b) bunny hop (putting feet together and hopping out of the area) to safety.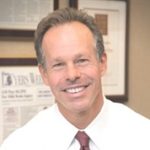 Named a "Leader in the Law" and "Lawyer of the Year" by Michigan's largest legal newspaper for his record-breaking auto accident verdicts, settlements and advocacy work in preventing wrecks, Steven Gursten heads Michigan Auto Law—a firm dedicated to serious motor vehicle accident injury cases and wrongful death lawsuits.