Here's what you can expect from a Detroit personal injury attorney from Michigan Auto Law: (1) a lawyer who specializes in helping people who have been injured in car, truck and motorcycle accidents; (2) a lawyer with a track record of success; and (3) a lawyer who treats each and every client with compassion, care and respect.
Having an experienced car accident lawyer who specializes in helping crash survivors is very important. His or her track record of success in securing multi-million-dollar trial verdicts and settlements and reputation for being ready to go to trial allows that lawyer to settle cases for more money and faster than non-specialized general practice lawyers.
In fact, the insurance industry's own research shows that experienced lawyers who specialize can increase settlement value by up to 4 times more than less experienced, general practice attorneys.
A Detroit personal injury lawyer from Michigan Auto Law is committed to helping and protecting his or her client whether that means taking on the insurance company to ensure that No-Fault benefits are paid on a timely basis or advocating for the client when he or she is required to undergo an exam by one of the insurance company's "hired-gun" IME doctors.
You also want a lawyer who returns phone calls and emails, communicates regularly and compassionately and who is given 5-star reviews by his or her previous clients.
To learn more, please check out my "what to expect from a personal injury lawyer" page.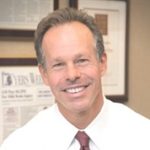 Named a "Leader in the Law" and "Lawyer of the Year" by Michigan's largest legal newspaper for his record-breaking auto accident verdicts, settlements and advocacy work in preventing wrecks, Steven Gursten heads Michigan Auto Law—a firm dedicated to serious motor vehicle accident injury cases and wrongful death lawsuits.