When you have been injured in an auto accident in the Motor City, the Detroit motor vehicle crash laws may allow you to sue the other driver for pain and suffering compensation.
There are three things you will have to be able to prove in order to bring a car accident lawsuit against the driver who injured you:
You must be able to show the other driver was negligent in how he or she was driving his or her car at the time of the crash.
You must be able to show that the other driver's negligent driving was a cause of your injuries.
You must be able to show that your injuries from the accident have caused you to suffer a serious impairment of body function.
Michigan law states that a "serious impairment of body function" is an "objectively manifested" impairment of an "important body function" and the impairment affects a crash victim's "general ability to lead his or her normal life," which means the impairment "has had an influence on some of the person's capacity to live in his or her normal manner of living." (MCL 500.3135(5)(c))
Check out my "Michigan car accident laws" page to learn more about the following issues:
How long an impairment must last in order to bring a claim?
Whether an impairment must be permanent in order for a settlement to be reached?
Whether you can be barred from suing?
Why it's so important to have a lawyer who specializes exclusively in handling these types of cases?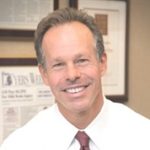 Named a "Leader in the Law" and "Lawyer of the Year" by Michigan's largest legal newspaper for his record-breaking auto accident verdicts, settlements and advocacy work in preventing wrecks, Steven Gursten heads Michigan Auto Law—a firm dedicated to serious motor vehicle accident injury cases and wrongful death lawsuits.