Attorneys who litigate motor vehicle accident cases will likely see big changes
Automotive "black boxes" tell a story.  They're not always black, and they aren't always shaped like a box either.  They are automotive data recorders that are installed today in most cars and trucks. These data recorders preserve inputs from the motor vehicle's sensors. Often, this can include the  5-to-10 seconds before a crash occurs.
After a crash, the data can be downloaded and the information stored to help attorneys determine  conditions such as speed, whether brakes were applied, steering factors and even seat belt use – all before the crash.
Most cars and trucks are already equipped with black boxes. But as of September 1, 2014, they will be mandatory in all vehicles.  The National Highway Traffic Safety Administration estimates that 96 percent of all 2013 model year cars already have event data recorders as standard equipment, according to an article on CBS News, "Government calls for mandatory "black boxes" in new cars, raising privacy concerns."
As an truck accident lawyer at Michigan Auto Law, I have used black box data as evidence in many of my truck accident cases. Often, in the event of a fatality, Michigan State Police now download the data themselves, and in serious injury cases the black box has already been downloaded as part of the crash investigation.
For a typical he said-she said motor vehicle crash at a red light or intersection that does not have eyewitnesses, the black box data can mean the difference between winning and losing the case (remember, the person bringing the lawsuit has the burden of proof – a tie goes to the defense).
This data has completely revolutionized the way trucking companies can monitor the activities of their truck drivers. And when truck accident lawyers can also review the data, it can be invaluable.
There are privacy concerns with black boxes being implemented in all vehicles. But it's also important for drivers to know that these data recorders provide critical evidence. This information helps lawyers and police investigators determine the real causes of car accidents.  And this information can even lead to safer vehicles, cheaper auto insurance, and safer commercial trucking companies.
Automotive black boxes are here now, like it or not. As an attorney, we better learn to use and embrace this new technology.
Related information:
How truck lawyers can use black box data to prove a case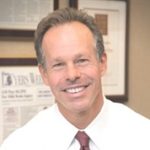 Named a "Leader in the Law" and "Lawyer of the Year" by Michigan's largest legal newspaper for his record-breaking auto accident verdicts, settlements and advocacy work in preventing wrecks, Steven Gursten heads Michigan Auto Law—a firm dedicated to serious motor vehicle accident injury cases and wrongful death lawsuits.