Even as insurance companies push for No Fault "reform," they collect over $2 billion more in 2011 than they paid out in claims
The Detroit Free Press recently ran my guest column:
Profits, not medical claims, drive up cost of auto insurance in Michigan
The point of my column is that even as the state's powerful insurance industry makes a hard push for No Fault "reform" (under the pretense that it will save drivers money) these insurance companies are literally raking in exorbitant profits.
The insurance lobby insists that No Fault medical benefits – including unlimited necessary medical care – must be capped because it's the cost of providing the medical care to catastrophically injured auto accident victims that's behind already high auto insurance rates for people.
But these 2011 numbers reveal that's not the case.
Michigan can have its cake and eat it too. We can keep intact the nation's best insurance system and dramatically lower the price of auto insurance. The answer is not to limit insurance benefits to those that need them most. The real answer is to empower the Michigan insurance commissioner to regulate clearly excessive profit margins that insurance companies make by selling a product that consumers are legally required to buy – namely, No Fault insurance.
If almost all other states have given their insurance commissioners this power, shouldn't the state of Michigan as well?
And wouldn't this be a better and more equitable option for lawmakers to try first, rather than dismantling an auto No Fault insurance system that has worked remarkably well for over 40 years?
If these reform efforts pass, auto accident victims will pay a steep price, and the insurance industry will save millions on medical claims payouts. Why? Once the No Fault medical benefits are capped, seriously injured auto accident victims will have to turn to taxpayer funded Medicaid for their medical care — instead of the auto insurance companies that they pay a premium to protect them by law.
Unfortunately, a number of lawmakers have bought the argument that no fault needs to be changed. Even Gov. Rick Snyder, the self-proclaimed "numbers man" and "nerd," seems willing to accept this argument, without any facts, numbers, or even proof that change is needed in the first place. Or maybe they haven't simply believed the argument, maybe they're just turning a blind eye after being persuaded by the deep-pocketed insurance company lobbyists.
I can think of about $2 billion things that are wrong with this picture.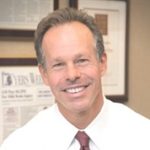 Named a "Leader in the Law" and "Lawyer of the Year" by Michigan's largest legal newspaper for his record-breaking auto accident verdicts, settlements and advocacy work in preventing wrecks, Steven Gursten heads Michigan Auto Law—a firm dedicated to serious motor vehicle accident injury and wrongful death cases.