About three years ago, I launched a new law firm with two out-of-state partners. The idea behind this law firm is unique: States don't really matter in the Internet age.
Attorneys who are subject matter experts in specialized and technical areas of law can come together across state lines to practice law and provide far better service – and results – than attorneys limited to the geographic boundaries of a state. In our case, the law firm focuses on litigating serious truck accident lawsuits throughout the country.
Our law firm is called the Truck Accident Attorneys Roundtable. We're about 3 years old, but we've already received the largest truck accident settlement in the entire country last year, according to published reports by VerdictSearch.
The best part is that we're leveraging friendships and relationships with lawyers around the country into a thriving law firm. And, I feel at least, that we're providing better and more effective legal representation to people hurt by trucks as well.
This past week, I shared tips from my new law firm model during the Avvo Lawyernomics Legal Marketing and Business Conference, which ran May 13-15 in Las Vegas.
With people searching for lawyers on the Internet who are truly experts to help them, I believe this new law firm model makes more sense now than ever before – and more sense than the way many law firms are set up today. With the advances in digital communication, technology and the Internet age, people looking for a great lawyer can now do a few searches online and find lawyers who are considered the top attorneys in their respective fields in the entire country.
This new model will likely be a natural evolution for attorneys, as the "big law" firm model becomes less effective. I wrote about this shift on my Avvo Lawyernomics blog when we first started out.
The specialization model for the Truck Accident Attorneys Roundtable is based on my own 18-attorney firm, Michigan Auto Law. We only handle one area of law: Motor vehicle accident cases. We do it with deep subject matter expertise. The results are that a law firm that doesn't advertise on television, billboards or buses, has grown from five lawyers to now 18.
In our own quiet, low-key way, we've become the "go-to" law firm for many lawyers who refer us cases from around Michigan, based on the results.
No one knows what massive changes in the legal industry will bring in the coming years.
But we all know they're coming. Perhaps the joining of lawyers who are considered the best in their areas of law from around the nation into law firms that only specialize in one or two areas of law will be part of these massive disruptions to come.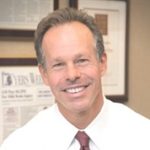 Named a "Leader in the Law" and "Lawyer of the Year" by Michigan's largest legal newspaper for his record-breaking auto accident verdicts, settlements and advocacy work in preventing wrecks, Steven Gursten heads Michigan Auto Law—a firm dedicated to serious motor vehicle accident injury and wrongful death cases.