Brandon speaks to high school students at the Byron center, sharing real stories of distracted driving car accidents
Brandon Hewitt grew up in Grand Rapids and has became a successful and well-respected personal injury attorney. He started with Michigan Auto Law as a clerk in law school at Wayne State University and has been an attorney with us for six years, focusing on helping people injured in automobile accidents. Brandon works mostly in our Grand Rapids law office, helping West Michigan accident victims.
Unfortunately, many of these people are injured in crashes that involve texting and driving. It is a growing danger and it is very real.
The age group most likely to text and drive is also the least experienced – younger drivers. In fact, teen drivers are more likely to use cell phones, and they're more likely to be injured or killed in distracted driving car accidents, according to the National Safety Council.
Recently, Brandon shared his  own personal legal experience from real cases to raise awareness with  high school students from West Michigan at the Byron Center in Grand Rapids about just how dangerous texting while driving and distracted driving can be.
Brandon has been an integral part of Michigan Auto Law's Distracted Driving Safety Awareness campaign. His goal is to help students understand that they're not invincible and that car accidents can happen.  As Brandon tells the students: "Distracted driving car accidents can happen to you."
Take a look at these great photos from his visit to the Byron Center:
And here are many thoughtful thank you notes from all of the students!
Related information:
Texting while driving now the No. 1 killer of teen drivers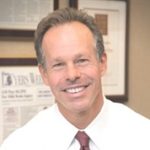 Named a "Leader in the Law" and "Lawyer of the Year" by Michigan's largest legal newspaper for his record-breaking auto accident verdicts, settlements and advocacy work in preventing wrecks, Steven Gursten heads Michigan Auto Law—a firm dedicated to serious motor vehicle accident injury and wrongful death cases.