About the new California "Three Feet for Safety Act" to keep cyclists safe from cars
A California law requiring drivers to maintain a distance of three feet when passing cyclists on the road is now in effect. The "Three Feet For Safety Act" is the latest sign of an important cultural shift in an automobile-dominated state like California.
As an attorney who practices in Michigan, I've seen my share of  tragic cases involving bicyclists hit by cars and distracted drivers. One such case was that of Michael Shekoski, who was hit by a commercial truck as he was attempting to cross the street on his bicycle. When I read about the "Three Feet for Safety Act," it made me think of Mr. Shekoski. If this three-feet rule were in effect in Michigan, maybe he would be alive today.
A violation of the California law carries a base fine of $35, unless the violation causes a collision and injury to the bicyclist. Then the fine is $220, according to an editorial in the Los Angeles Times, "Drivers, start your eyeballs, the three-foot rule for cyclists is here."
One issue with the California three feet law is how drivers can actually decipher how far away they are from the bicyclists.  In other words, how will they gauge three feet?  And how would any attorney or police officer be able to prove a violation of the three feet rule?
However, the law states if a driver is unable to give a cyclist three feet, due to traffic or road conditions like weather or highway width, the driver must slow to a reasonable speed and pass so as not to endanger the cyclist.  In other words, a violation may be implied just by the act that a car or truck hit a bicyclist.
Laws similar to this one are already in effect in 22 states.
This is definitely a smart first step toward sharing the road. Hopefully Michigan will follow with a similar law.
Related information: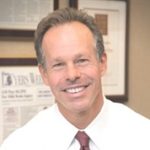 Named a "Leader in the Law" and "Lawyer of the Year" by Michigan's largest legal newspaper for his record-breaking auto accident verdicts, settlements and advocacy work in preventing wrecks, Steven Gursten heads Michigan Auto Law—a firm dedicated to serious motor vehicle accident injury and wrongful death cases.