Determining who is at fault in a Detroit T-Bone crash will depend on many factors. Importantly, the police and the courts will want to know: (1) Who was driving without the requisite level of care?; (2) Who was violating state traffic laws?; and (3) Who was violating local traffic laws and ordinances?
Although different types of evidence will be relied on to determine who is at fault in the car accident, witness testimony is often the most compelling proof in T-Bone crashes.
Other important evidence includes video recordings from surveillance cameras and dash cam, data from "black boxes" which are also called event data recorders and engine control modules, and opinions from accident reconstruction experts.
It is not uncommon for victims of T-Bone auto accidents to suffer serious and sometimes fatal injuries. Victims and their families may be able to file wrongful death lawsuit and/or pain and suffering lawsuit to sue the at-fault driver for damages and compensation for traumatic brain injuries, spine injuries, PTSD and other catastrophic injuries or death.
To learn more about your legal rights to pain and suffering compensation and getting the best settlement possible in your case, please check out my "who is at fault in a T-bone car accident" page.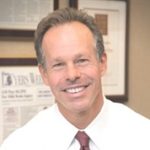 Named a "Leader in the Law" and "Lawyer of the Year" by Michigan's largest legal newspaper for his record-breaking auto accident verdicts, settlements and advocacy work in preventing wrecks, Steven Gursten heads Michigan Auto Law—a firm dedicated to serious motor vehicle accident injury cases and wrongful death lawsuits.