Uber is a ride sharing service that has been facing accusations that its drivers aren't properly insured. And since this is a legal blog, the comments about insurance become important. Not being properly insured translates into putting innocent passengers in danger. It can mean not having enough medical coverage or being able to pay bills if you're seriously injured in a car accident involving an Uber vehicle where the Uber driver is at fault.
Uber is a San Francisco-based company that connects passengers with drivers of luxury vehicles for hire via Smartphone app. Cars are reserved by sending a text message or by using the mobile app, and customers can track their reserved car's location. The company arranges pickups in many cities, including Detroit, Michigan where I practice law.
One important thing to know about Uber is the difference between its two main services, according to published reports:
Uber Black – (Similar to a limo or metro car service)
Premium option,
Licensed chauffeurs of black sedans and SUVs,
Follows state law,
Background checks on drivers,
$1 million in liability insurance,
Cars inspected once a year to earn certification sticker that's visible on back window to police.

UberX  – (Free for all)
Low cost option,
Drivers use their own vehicles,
No licensed chauffeurs, and not required to get "vehicle for hire" licenses,
Background check on drivers,
$1 million in primary coverage – when a driver is transporting a passenger.
Based upon recent published reports, many state regulators are now taking a closer look.  The concern is that  some transportation companies, including Uber, may be skirting safety rules requiring vehicle safety inspections, registration and adequate insurance to cover people injured in automobile accidents.
Uber has responded by saying it's primarily a technology business and doesn't need to comply with local and state taxi and limo laws that may require higher safety standards.
So, if Uber doesn't need to comply with local and state laws, what happens if one of its passengers is injured in a crash?
This question is no longer theoretical.  Sadly, lawyers and safety inspectors are asking the question  after a recent tragedy in San Francisco, where a 6-year old girl was killed and her mother and brother were seriously injured when an "Uber-contracted driver" allegedly turned into the crosswalk without yielding, running down  the entire family, according to an article by Tech Crunch, "Uber's Denial of Liability in Girl's Death Raises Accident Accountability Questions."
For more legal information on who is liable in an Uber car accident, you can also read my blog: Uber Driver Causes Accident, Who Is Liable?
Related Articles: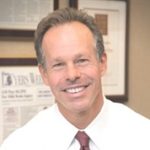 Named a "Leader in the Law" and "Lawyer of the Year" by Michigan's largest legal newspaper for his record-breaking auto accident verdicts, settlements and advocacy work in preventing wrecks, Steven Gursten heads Michigan Auto Law—a firm dedicated to serious motor vehicle accident injury cases and wrongful death lawsuits.