Raising insurance limits for trucks will cause insurance companies to better investigate the companies they insure; raising rates on unsafe carriers makes public safer and raises ins. co. profits
Injury lawyers and insurance companies working together, oh my (enter). The mission of the Federal Motor Carrier Safety Administration (FMCSA) is to regulate commercial motor vehicles, and it has been doing so mostly for the better. But regulations don't always work, especially with the corrosive influence that the powerful trucking industry lobbyists have on the FMCSA and politicians in our nation's capitol.
And despite the rules and regulations now in place, many trucking companies continue to choose to break the rules, put innocent lives in jeopardy, and predictably, cause preventable truck accidents. The cycle continues because it is simply easier and cheaper to choose to violate certain regs, and pay a fine if you get caught. I was interviewed by Fox 2 News once on how common it is for truck drivers with drugs and alcohol in their system to choose to disappear after they cause a horrible truck wreck, and how often the "safety" managers and owners encourage this because paying a couple thousand is a helluva lot better than paying a couple million if that driver just killed someone.
If the federal government cannot adequately inspect and enforce its own mandatory safety regulations, who can?
I'd like to say injury attorneys. But the sad truth is that the vast majority of attorneys – even lawyers who claim on billboards, buses, and television that they specialize in truck accident cases – have no idea how to litigate and do legal discovery in a serious truck accident injury or wrongful death lawsuit. Bad motor carriers get away with quite obvious and often appalling safety violations all the time.
So until injury attorneys become better educated and more sophisticated – so as a group we are all doing a better job investigating why these truck accidents happen – the attorneys who litigate these cases are not the answer either. As an aside, an important mission of the Truck Accident Attorneys Roundtable is to help educate other injury lawyers to better investigate and litigate these truck wreck cases, so lawyers can do a better job holding bad trucking companies accountable.
Perhaps the best answer to this question is the private market itself. And that means enlisting in the cause of preventing these truck wrecks from ever happening the group that traditionally fights like cats and dogs with injury attorneys in every state in the nation: the insurance industry. And the best way to enlist the aid of the insurance industry in this cause is by appealing to their profit motive.
So maybe now it is the insurance companies' turn. Maybe only the insurance industry can hit these unsafe trucking companies where it really hurts — in the pocket book. By performing more detailed safety audits BEFORE the truck accident ever takes place.
And that will only happen if the minimum insurance policy limits for commercial vehicles gets raised beyond the current $750,000.
Higher policy limits that cause insurance companies to perform safety audits will result in bad trucking companies paying higher insurance costs. This is good for the insurance companies. And in a properly functioning insurance market, unsafe truck companies would find themselves shutting down shop in the face of prohibitively high insurance premiums.
The safe companies who play by the rules, educate and supervise their truck drivers and maintain their fleets, would then be rewarded with lower insurance premiums because they care about safety and follow the traffic laws and FMSCRs.
The great thing about this is that it also rewards and further incentivizes commercial motor carriers, especially the unsafe ones, to properly maintain their vehicles and pre-emptively act to get the dangerous trucks and drivers off of the road — before a truck accident occurs.
If these dangerous companies don't currently care about preventing crashes, injures and deaths; perhaps they will care about saving money.
Why motor carriers do not have higher insurance premiums for truck accidents
Outdated insurance requirements are to blame for sabotaging this market solution to preventing truck crashes.
Currently, the FMCSA only requires motor carriers to maintain insurance up to $750,000 in insurance per crash. This policy limit is stunningly low. To put it into perspective, I've successfully litigated hundreds of truck accidents, and many of my clients have incurred $750,000 in medical bills within a month of being injured.
This low policy limit of $750,000 does little to further incentivize insurance companies to undergo a more rigorous and thorough assessment of the trucking companies they insure, because their own liability is also capped. That's the perverse effect of the market having low insurance policy limits.
This minimum mandatory insurance requirement is nothing new. It hasn't changed in nearly 40 years. It also hasn't been adjusted for inflation. These low insurance limits have skewed the safety data available to auto insurance companies, and created very little incentive to thoroughly inspect these companies that that are insured. The low insurance cap also artificially limits the damages and liabilities of unsafe motor carriers in truck crashes. And because of all of this, insurers cannot truly gauge a company's risk because they simply don't have to.
Upping the insurance requirement that motor carriers must maintain would enable private insurance companies to perform a vital safety function and prevent truck accidents.
It would be nice to work with the insurance industry for a change, instead of always against them.
These are the musings of a lawyer who has seen too many truck accidents, on how to change an industry.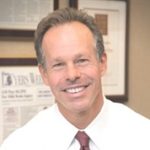 Named a "Leader in the Law" and "Lawyer of the Year" by Michigan's largest legal newspaper for his record-breaking auto accident verdicts, settlements and advocacy work in preventing wrecks, Steven Gursten heads Michigan Auto Law—a firm dedicated to serious motor vehicle accident injury cases and wrongful death lawsuits.