The general rule is that car seats should not be used again if your car was involved in any type of automobile accident that was clearly not a minor impact. The National Highway Traffic Safety Administration recommends that if you're in a moderate or severe crash to replace your car seat, as damage to the seat could prevent it from properly protecting your child in another accident.
However, when it comes to fender benders, the NHTSA says a seat does not automatically need to be replaced. A minor crash must meet all of the following criteria:
The vehicle was able to be driven away from the crash site;
The vehicle door nearest the safety seat was undamaged;
There were no injuries to any of the occupants;
The air bags did not deploy; and
There's no visible damage to the safety seat.
Each child safety seat manufacturer has a guideline regarding seats involved in accidents, which should always be followed.
If you have additional questions or if you're still concerned about the safety seat, you can have it examined by a certified professional. Call your local fire department or visit this page on safercar.gov for locations near you.
I practice automobile accident law in Michigan, and my law firm, Michigan Auto law, has  a  certified child car seat technician  to inspect your child safety seats and make sure they're installed properly. Our safety tech is certified by SafeKids Worldwide, and has successfully completed the National Child Passenger Safety Certification Training Program. This is a government program and any child safety technician in the U.S. must be certified by SafeKids Worldwide.
Remember, even if there are no visible signs of damage to the seat, it may no longer be effective.
Tip: Some auto insurance companies may cover the cost to replace your car seat. It never hurts to ask your insurance adjuster when making your claim.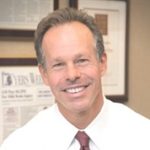 Named a "Leader in the Law" and "Lawyer of the Year" by Michigan's largest legal newspaper for his record-breaking auto accident verdicts, settlements and advocacy work in preventing wrecks, Steven Gursten heads Michigan Auto Law—a firm dedicated to serious motor vehicle accident injury cases and wrongful death lawsuits.