Do not delay in seeking medical attention if you have suffered a neck injury after a Detroit car crash.
Not only can these injuries be extremely painful, but if left untreated, they can be debilitating and potentially life-altering. Neck injuries can prevent victims from resuming their normal lives, engaging in their normal activities with family and friends and from returning to work.
In order to make sure you get prompt medical care, a proper diagnosis and the necessary treatment, you need to know about the following if you have suffered a neck injury after a Detroit car crash:
What your legal rights to sue are
What the most common symptoms are
The types of neck injuries that are frequently caused by car crashes
The tests that doctors use to diagnose neck injuries
The types of treatment that are most often used
The types of surgery that may be recommended
To learn more about what to do if you have suffered an injury to the neck in a Detroit collision, please check out my page "neck injury after a car accident."
Related Articles:
Suing Someone After A Car Accident: What You Need To Know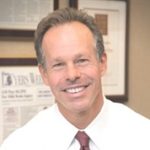 Named a "Leader in the Law" and "Lawyer of the Year" by Michigan's largest legal newspaper for his record-breaking auto accident verdicts, settlements and advocacy work in preventing wrecks, Steven Gursten heads Michigan Auto Law—a firm dedicated to serious motor vehicle accident injury cases and wrongful death lawsuits.