Scorecard: Republican Justices Zahra and Markman of the Michigan Supreme Court have 100% record of voting FOR insurance companies and against victims A summary of the 2012 No-Fault insurance cases and rulings against auto accident victims
The Michigan Supreme Court
Front row (left to right): Justice Michael F. Cavanagh, Chief Justice Robert P. Young, Jr., Justice Marilyn Kelly Back row (left to right): Justice Mary Beth Kelly, Justice Stephen J. Markman, Justice Diane Marie Hathaway, Justice Brian K. Zahra
You've probably seen the ads on television by Justices Markman and Zahra, claiming that they respect the Constitution and rule of law. But the cases that they have ruled on tell a different story. These Justices, as part of an activist Republican majority, have voted 100% in favor of insurance companies over auto accident victims.
Here is a scorecard of how the Court has ruled in 2012 in favor of insurance companies, even creating new law and overturning decades of well-settled precedent in order to do so.
Atkins v. Smart, August 20, 2012
The majority held that application of No-Fault benefits does not constitute written notice of third-party tort claim.
Elevating form over substance and technicalities over justice, the Court majority reversed the Court of Appeals decision that a No-Fault application submitted by Atkins to SMART was sufficient legal notice.
Spectrum Health v. Farm Bureau, July 3, 2012
This case involves a single-car accident in which a family member who was expressly told could not drive a family vehicle and taken off the family's policy was denied PIP benefits.
The majority discarded well-settled Michigan case law on point, and denied PIP benefits to anyone (including family members) that use a car without permission. Judge made law and judicial activism?
Only when it favors insurance companies.
Douglas v. Allstate, July 30, 2012
A family member caregiver is denied attendant care payments.
The Majority creates a series of new requirements (read: hurdles) for seriously injured people in Michigan who recover attendant care benefits.
The dissent points out that the majority is creating unnecessary obstacles to receiving owed PIP benefits and attendant care. Here's more information about Douglas v. Allstate.
Johnson v. Recca, July 30, 2012
Michigan auto accident victims cannot sue for excess No-Fault replacement services.
Again, creating new judge made law in Michigan, and overturning nearly 40 years of allowing seriously injured accident victims to recover third-party replacement services, the Majority eliminates completely the entire claim for third party replacement services in Michigan (even though they had affirmed in Kreiner v. Fischer that this claim could still be made in auto tort cases).
Dissent believes that the Majority is dismantling the intent of the statute by not including ordinary and necessary services as benefits transferrable to an innocent third party. They would recognize legislative intent and allow replacement services to be transferred to third party. Here's more information about Johnson v. Recca.
Titan v. Hyten, June 15, 2012
Creates a double standard that makes it very easy for auto insurance companies to allege fraud and void coverage against their own customers, but makes it near impossible for innocent customers to turn around and allege fraud when an insurance company cheats, lies and steals against the unsuspecting, the innocent and the vulnerable.
Hyten's driver's license was suspended because of multiple violations and accidents. A policy was signed August 22, 2007 and delayed until August 24, 2007, when Hyten expected the restoration of her license. Therefore, the question about suspended or revoked licenses in the household was marked "no" in anticipation of said restoration. Hyten's license wasn't restored until September. In February, 2008, Hyten was in MVA. Though, her license was restored before the accident, Titan sought indemnity saying that the application filed on August 24, 2007 was a fraudulent application. The Court of Appeals denied indemnity, holding that an insurer may not avoid liability for fraud that is easily ascertainable and it would have been easy to ascertain that Hyten's license had yet to be restored.
Majority overruled Kurylowicz and all the cases that subsequently cited to it, getting rid of the easily ascertainable rule in Michigan. Here's more information on Titan v. Hyten.
DeFrain v. State Farm Mutual Auto Insurance Company, May 30, 2012
Uninsured motorist benefits are denied after a hit-and-run case.
New law created again that favors insurance companies.
An unambiguous Notice of Claim provision is enforceable without showing an insurance company suffers any actual prejudice. Uninsured motorist benefits are sought after 30 days in a hit-and-run case. State Farm policy contained a 30-day notice provision regarding hit-and-run motor vehicle claims (a limitation that most other states have already ruled is on its face an unreasonable time period). But not in Michigan. Even though the Court of Appeals had relied on Koski in ruling that State Farm was unreasonable and must establish actual prejudice, our Michigan Supreme Court majority found otherwise, ruling that an unambiguous notice-of-claim provision is enforceable without showing that an insurance company was prejudiced and despite any unfair burden this places on the injured.
The Justices in the Minority noted that the Majority, in finding for State Farm, were creating new law and would have relied upon Koski and other cases that requires insurer to show it was prejudiced.
Joseph v. ACIA, May 15, 2012
No-Fault PIP benefits are denied over Michigan's draconian one-year back rule.
Perhaps the saddest case of 2012, and certainly the one that has the worst public policy for the citizens of this state. This case is about one-year-back rule in PIP benefits. The plaintiff believed her insanity over the past 32 years operated to toll the one-year-back rule pursuant to the minority/insanity tolling provision and attempted to receive benefits from years before she filed her claim.
The Majority ruled that the tolling provision addresses when an action may be brought, so the one-year-back rule, which limits the amount of benefits does not apply. They overrule Regents, reinstate Cameron, and in effect basically say to hell with the very young, the brain injured, the medically incapacitated and anything else that would equitably toll the one-year-back rule.
The final scorecard and our future referees
The 2012 scorecard shows that there have been seven auto No-Fault cases where the Michigan Supreme Court has ruled against auto accident victims and FOR insurance companies. In several of these cases, the 4 Justice Majority created brand new judge-made law that now favors insurance companies and overturned well settled case law in this state.
Hat tip to Arnie Grinblatt, a No-Fault victim's rights activist from West Bloomfield, Michigan for providing this to Michigan Auto Law.
It's very important to restore our Court to one that is fair and balanced to both accident victims and to the insurance companies.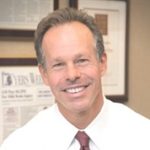 Named a "Leader in the Law" and "Lawyer of the Year" by Michigan's largest legal newspaper for his record-breaking auto accident verdicts, settlements and advocacy work in preventing wrecks, Steven Gursten heads Michigan Auto Law—a firm dedicated to serious motor vehicle accident injury cases and wrongful death lawsuits.