It is worth hiring a Detroit bicycle accident lawyer because these are complicated and complex cases. Bicyclists' injuries are frequently very serious and insurance defense lawyers and adjusters frequently try to shift blame to the bike rider and away from the at-fault motorist whose negligence caused the crash.
An experienced bicycle crash attorney will have the skill, specialized training and proven results to fight for you and to protect you when the insurance company does not want to pay you the compensation and benefits you are legally entitled to.
In fact, the insurance industry's own data shows that experienced bike accident lawyers with a track record of recovering record-breaking settlements and trial verdicts for their clients can often settle injury cases faster and for significantly more money.
Here are more reasons why it is worth hiring a Detroit bicycle accident lawyer:
To learn more, please check out my "bicycle accident lawyer" page.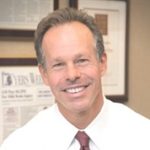 Named a "Leader in the Law" and "Lawyer of the Year" by Michigan's largest legal newspaper for his record-breaking auto accident verdicts, settlements and advocacy work in preventing wrecks, Steven Gursten heads Michigan Auto Law—a firm dedicated to serious motor vehicle accident injury cases and wrongful death lawsuits.