A herniated disc caused by a car crash in Detroit is a serious injury that requires immediate attention.
Left undiagnosed and untreated, a herniated disc can cause a Detroit car accident victim to suffer chronic pain, disability and possibly paralysis in the event that the spinal cord has been damaged.
If you were injured in your neck, mid- and/or lower back in a car accident, then you may have suffered a herniated disc in your cervical, thoracic and/or lumbar spine.
It's crucial that car accident victims know the following about herniated discs:
What is a herniated disc?
What should you do for a herniated disc after a Detroit car crash?
How do you make a claim?
Can you sue?
What are the symptoms and treatments for a herniated disc?
To learn more about a herniated disc after a Detroit car crash, please check out my page "Herniated Disc After A Car Accident: What You Need To Know."
Related Articles:
How Long After A Car Accident Can You Claim Injury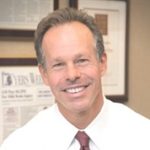 Named a "Leader in the Law" and "Lawyer of the Year" by Michigan's largest legal newspaper for his record-breaking auto accident verdicts, settlements and advocacy work in preventing wrecks, Steven Gursten heads Michigan Auto Law—a firm dedicated to serious motor vehicle accident injury cases and wrongful death lawsuits.