You and your family may be able to file a wrongful death lawsuit if you have lost a loved one in a Detroit car crash. An experienced wrongful death lawyer can help you and your family protect your rights to compensation and economic damages.
Below are answers to some of the questions I am most frequently asked about Detroit wrongful death lawsuits.
What compensation can be recovered in a Detroit wrongful death lawsuit?
Family members of a loved one who lost his or her life in an automobile crash may be able to pain and suffering compensation and loss of companionship as well as economic damages for loss of financial support.
Who may be entitled to compensation?
The people who can legally recover compensation and damages through a Detroit wrongful death lawsuit include the spouse, children, descendants, parents, grandparents and siblings of your loved one.
Who can file the lawsuit?
A Detroit wrongful death lawsuit after a fatal crash can only be filed by a person who has been appointed by a probate court judge to be the personal representative of your loved one's estate. The personal representative can be a relative and/or dependent of the deceased.
How much will a Detroit wrongful death lawsuit settle for?
There are many factors that affect how much a Detroit wrongful death lawsuit can settle for, but the most important considerations include: (1) whether and the extent to which your loved one experienced conscious pain and suffering; (2) the extent to which your loved one was depended on for financial support; (3) the reputation and experience of your lawyer; (4) the insurance coverage limits of the at-fault driver; and (5) whether the at-fault driver had collectible assets that could be used to pay for a settlement.
To learn more about your legal rights after losing a loved one in a fatal Detroit crash, please check out my "michigan wrongful death lawsuit" page.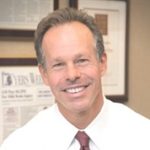 Named a "Leader in the Law" and "Lawyer of the Year" by Michigan's largest legal newspaper for his record-breaking auto accident verdicts, settlements and advocacy work in preventing wrecks, Steven Gursten heads Michigan Auto Law—a firm dedicated to serious motor vehicle accident injury cases and wrongful death lawsuits.