A brain bleed after a Detroit crash is a very serious injury that requires immediate medical treatment and care. Without a timely and proper diagnosis, a crash victim risks not only disabling, permanent brain damage but also death if the brain bleed interferes with vital functions such as breathing and blood flow.
A brain bleed occurs when the force of impact in an auto accident causes a person's brain to violently whip back and forth within his or her skull, thus rupturing blood vessels. This causes blood to be released and begin pooling between the brain's surface and the person's skull.
The increasing pressure on the brain from the growing pool of blood can damage the brain and eventually – if the bleed is not stopped – cause that portion of the brain to cease functioning.
Although there can be observable symptoms of a brain bleed, they may not appear immediately. Instead, a person who has suffered head trauma involving a brain bleed may initially seem "fine" or "normal" after the crash. That's why it is so important to see a doctor right away if you've suffered any trauma to the head in an auto accident.
An experienced brain injury lawyer can help you and your family protect your legal rights when you've suffered a brain bleed after a Detroit crash. Your attorney will help you recover the pain and suffering compensation you're entitled to and ensure that the insurance company provides the No-Fault benefits you'll need to pay for your medical care both now and in the future.
To learn more, please check out my "brain bleed after car accident" page.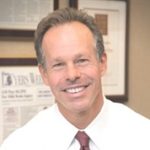 Named a "Leader in the Law" and "Lawyer of the Year" by Michigan's largest legal newspaper for his record-breaking auto accident verdicts, settlements and advocacy work in preventing wrecks, Steven Gursten heads Michigan Auto Law—a firm dedicated to serious motor vehicle accident injury cases and wrongful death lawsuits.