Oakland County Executive L. Brooks Patterson has never been known to mince words or pull punches. And the fiscally conservative Oakland County Republican leader stayed true to form in a recent interview with attorney Steve Gursten of Michigan Auto Law.
Mr. Gursten and Mr. Patterson discussed No Fault insurance "reform" and whether this is good for the people of Michigan.
Here's a short video from the Oakland County Executive on his staunch support for our No Fault insurance system:
Below are highlights of Mr. Patterson's interview comments from the video:
Michigan No Fault is "unique" and it has "proven its worth time and time again."
"The [No Fault Law's catastrophic claims] fund provides an essential service and a quality of life and I think that's how we should treat our citizens."
"People in [catastrophic and serious car accidents] need intensive care and will need intensive care for the rest of their lives … The [No Fault Law's catastrophic claims] fund provides it. …"
"The public appreciates what this fund offers citizens who have catastrophic accidents."
Catastrophically injured auto accident victims will "end up in some Medicaid, state-funded nursing home never to be seen again" if benefits are capped. They're "going to wither up and die."
Mr. Patterson chimed in on the No Fault reform debate in mid-February, when he published his "Open Letter" on why Michigan's existing No Fault system needs to be preserved and protected.
Michigan No Fault reform
Recent proposals backed by the auto insurance industry and many Republican lawmakers include capping No Fault's unlimited, lifetime medical benefits for necessary medical care, and the dismantling of the Michigan Catastrophic Claims Association (MCCA).
The MCCA is the fund that reimburses insurance companies for people who have suffered catastrophic injuries in auto accidents and have medical bills exceeding $500,000. Many people with catastrophic injuries have suffered spinal cord injury or very serious traumatic brain injury and rely on the MCCA fund for medical care.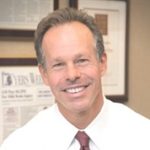 Named a "Leader in the Law" and "Lawyer of the Year" by Michigan's largest legal newspaper for his record-breaking auto accident verdicts, settlements and advocacy work in preventing wrecks, Steven Gursten heads Michigan Auto Law—a firm dedicated to serious motor vehicle accident injury and wrongful death cases.