Since The Michigan Catastrophic Claims Association's (MCCA) announcement of a $30 or 21 percent increase in its annual per vehicle assessment, big insurance has been pouring on the "call for no-fault reform."
But for the most part (and this should come as little surprise), the most popular idea coming from insurance company supporters is limiting no fault insurance benefits to those that are in serious need of these insurance benefits, for necessary medical care relating to injuries from auto accidents.
The real answer isn't about capping PIP benefits from those who can least afford to lose it. Instead, it's about shining some rays of sunlight for Michigan citizens about the enormous profits being made by the insurance industry in the state of Michigan.
It might be different if Michigan residents were not required by law to purchase no fault insurance for our cars and trucks. But we are, and insurance companies should not be allowed to gouge consumers by hiking the price of something we are all forced by law to purchase. So, let's open the books of Michigan's insurance companies and shine some sunlight as well into the MCCA by requiring the following disclosures:
Mandatory Reporting of Loss Ratios – The public should be given access to the loss ratios on insurance company No-Fault (PIP) coverage lines. An auto insurance company's "loss ratio" is a calculation of how much of each premium dollar is paid out in claims. Before we swallow what Michigan insurance companies are trying to feed us, let's get a peak at what's actually on the spoon.
Mandatory Reporting of No-Fault Claims Trends – Are No-Fault claims are increasing or decreasing? Are No-Fault auto insurance companies' payouts on No-Fault claims are increasing or decreasing? Are the number of premium-paying No-Fault insureds in Michigan increasing or decreasing? Let's have a look at some reliable data about no-fault trends.
New Study on Excessiveness or Non-excessiveness of Michigan Auto Insurance Prices – The last study completed by Jay Angoff found "excessive" profits by Michigan's largest auto insurance companies. It's time for an update. Let's take a good, hard and long look at what's really going on with the insurance industry in Michigan before we take away vital no fault protections from all of us. There are likely far easier ways to dramatically lower the cost of auto insurance and keep our no fault benefits intact. Do the auto insurance companies in Michigan really need to lead the entire nation in profitability?
As an insurance lawyer in Michigan, I've been helping auto accident victims deal with insurance companies for almost 20 years. In my experience, before taking these highly-profitable businesses at face-value and cutting-off Michigan residents who are truly in need of the care, it's just common sense to find out what's really going on in the no-fault insurance industry in Michigan.
Steven M. Gursten is one of the nation's most recognized attorneys handling serious auto accident injury and wrongful death cases, and No-Fault insurance litigation. He is head of Michigan Auto Law, the state's largest law firm handling car accident, truck accident and motorcycle accident cases for more than 50 years.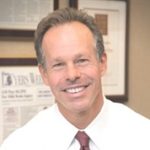 Named a "Leader in the Law" and "Lawyer of the Year" by Michigan's largest legal newspaper for his record-breaking auto accident verdicts, settlements and advocacy work in preventing wrecks, Steven Gursten heads Michigan Auto Law—a firm dedicated to serious motor vehicle accident injury and wrongful death cases.