Michigan Car Accidents & No-Fault Law
If you're in a car accident in Michigan, there are some important things you need to keep in mind in order to protect your rights. You might be wondering what steps you need to take with regard to your insurance company after a car accident. Generally speaking, one of the first steps you should consider is notifying your auto insurance company following the crash. In some circumstances, failing to timely notify your car insurance company may limit your right to recover for injuries sustained in the accident.
First Party Auto Insurance Claims in Michigan
In Michigan, the rules related to notifying your insurance company are fairly strict. Usually, a one-year time limit applies for you to both notify your own No-Fault insurance company, as well as, to submit an application for benefits under your no-fault insurance policy. This is more commonly called a "first-party" claim.
Third-Party Auto Insurance Claims in Michigan
You should also know that there is a three-year time limit to file a lawsuit against the car insurance company of driver who caused the accident for pain and suffering. This is more commonly called a "third-party" claim.
Michigan is a No-Fault State
At some point, you many have heard that Michigan is a "no-fault state". The idea behind no-fault is that both parties in a Michigan car accident are entitled to benefits from their insurance companies, regardless of who is responsible for the collision. As you may have already experienced, no-fault laws in Michigan can be quite complicated to understand.
Different insurance policies, workers compensation, and the strict Michigan personal injury threshold law, can all make your claim for benefits more difficult to understand. When you're injured in a car accident in Michigan, it's always best to speak with an attorney who has experience and knowledge of the law in this area.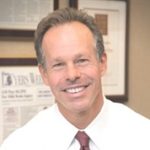 Named a "Leader in the Law" and "Lawyer of the Year" by Michigan's largest legal newspaper for his record-breaking auto accident verdicts, settlements and advocacy work in preventing wrecks, Steven Gursten heads Michigan Auto Law—a firm dedicated to serious motor vehicle accident injury and wrongful death cases.