Sen. Smith's has an idea to change Michigan No-Fault law. Unfortunately, the proposed changes will hurt injured Detroit car accident victims. I've written about Sen. Smith's plan for Michigan no-fault law changes before.
Basically, the senator claims that he want to help Detroiters by suggesting that Michigan insurance companies provide a bare-bones auto insurance policies. But in practice, these changes would have a drastic negative impact on people who are seriously injured in auto accidents.
As I recently explained to Jonathan Oosting of MLive, about Smith's proposed no-fault bill on bare-bones auto insurance, there are much smarter and more effective ways to lower auto insurance.
Sure, removing credit scoring and red-lining would be a basic first step to stop discrimination. But the question at the core of this issue is: why do auto insurance companies in Michigan make more money than anywhere else in the country?
Michigan one of the only states in the entire country in which the insurance commissioner can't cap excessive and unreasonable profits that auto insurance companies conspire to charge consumers. Why not allow our state insurance commissioner the same power, that they have in many other states, to cap unreasonably large auto insurance company profits? Wouldn't you agree that this is much more effective and equitable solution to lowering auto insurance costs than taking away no fault protections from those who likely don't have other insurance?
Our comprehensive Michigan No-Fault law currently requires auto insurers to cover all expenses related to an auto accident, and provides unlimited lifetime medical expenses.
If Senator Smith gets his way, Michigan's minimum personal protection coverage would be lowered to $50,000 or $100,000. In fact, the "basic" No-Fault cap that is being proposed is so ridiculously low, that in most cases it would be depleted before someone leaves the emergency room if he or she suffered a serious injury from an auto accident.
This means, the costs for the injured driver's care would be shifted to Medicaid, and the financial burden shifted to taxpayers.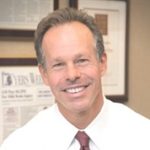 Named a "Leader in the Law" and "Lawyer of the Year" by Michigan's largest legal newspaper for his record-breaking auto accident verdicts, settlements and advocacy work in preventing wrecks, Steven Gursten heads Michigan Auto Law—a firm dedicated to serious motor vehicle accident injury and wrongful death cases.