Smith's No Fault insurance bill punishes Detroit drivers, but oddly gives cash back to Michigan's auto insurers
It seems lately that Sen. Virgil Smith is more concerned with representing the interests of Michigan's powerful auto insurance companies, rather than the best interests of the people of the 4th District, Detroit. Looking at his latest No Fault insurance "reform" proposal – Senate Bill 251 – one has to question how his latest proposed boondoggle for insurance companies helps anyone.Smith's proposal is to close the Michigan Catastrophic Claims Association (MCCA). But instead of returning the money in it to the drivers who have paid the MCCA assessment as part of their auto insurance premiums, he proposes to give the money to Michigan's highly profitable auto insurers. The Michigan Catastrophic Claims Association (MCCA) pays for the unlimited, lifetime benefits provided to catastrophically injured auto accident victims. A catastrophic injury is one whose benefits costs have exceeded $500,000. Under Smith's proposed closure of the MCCA, the MCCA's Board of Directors, once it has "[wound] up the affairs of the association," will "transmit any remaining money held by the association to its members," i.e., the highly profitable auto insurers whose ever increasing auto insurance rates are the catalyst for No Fault reform efforts like Sen. Smith's. There is no explanation by Smith for why he is proposing this boondoggle giveaway to the auto insurance companies, as versus returning it to the people of Michigan who paid it into the fund, including his own constituents in the 4th District of Detroit. And that's unacceptable. One would think that any money left over after the MCCA's closure (and hopefully closing the MCCA will not happen) should rightfully go to Michigan consumers who paid it in the first place.
How does the MCCA fund work?
The MCCA pays for the No Fault PIP (insurance benefits) for all catastrophically injured auto accident victims after their benefit costs have exceeded $500,000. The MCCA continues to pay for those benefits on an unlimited, lifetime basis, as long as they are necessary to the victims care, recovery and rehabilitation. The MCCA funds used to pay for catastrophic injury victims' medical benefits are raised by charging an annual per vehicle assessment to all of the auto insurance companies in Michigan. But remember, it's Michigan auto insurance consumers who actually pay the assessments, because the auto insurers pass along the full amount of the assessments to the consumers in the form of auto insurance price increases. Following a 21% increase, the assessment is currently around $175 a year. And just last week, the MCCA hiked the assessment by 6% to $186, starting in July 2013. This part of your auto insurance premiums rise when the MCCA increases its assessments.
How Smith's SB 251 would put Detroit drivers in jeopardy?
Sen. Smith's SB 251 would also end Michigan No Fault's guarantee of unlimited, lifetime medical benefits for necessary medical care for the most seriously injured auto accident victims. But it is Smith's own constituents — in cities exactly like Detroit — who would be most harmed by his ideas of imposing dangerously inadequate medical caps of $50,000 on medical bills. Most other drivers who cause these car crashes in cities like Detroit are either driving uninsured (as 50% of all drivers in Detroit are estimated to be) or have the absolute minimum bodily injury insurance policy limits of $20,000. So all the excess medical bills for his constituents' injuries would NOT be reimbursed by the other person's auto insurance. And that would be disastrous for these people, in terms of the greatly diminished quality of medical care they would receive as a result, as well as the resulting crushing financial burdens they would face. Additionally, since so many people in cities like Detroit do not have any health insurance at all, or uninsured motorist coverage, these seriously injured people would be pushed onto Medicaid. In turm, the cost would be pushed onto the rest of us as taxpayers under Smith's proposals, instead of the insurance companies who already lead the rest of the nation in profit margins. Whatever Sen. Smith's aspirations may be, they seem to be directed mostly toward boosting the profits and capping the exposure risks of Michigan's auto insurance industry, and with near total disregard for the welfare of his own constituents in the 4th District. It is a boondoggle that devastates those who can least afford it. Sadly, it's Detroiters who can least afford Virgil Smith's ideas on No Fault insurance reform.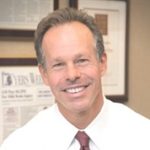 Named a "Leader in the Law" and "Lawyer of the Year" by Michigan's largest legal newspaper for his record-breaking auto accident verdicts, settlements and advocacy work in preventing wrecks, Steven Gursten heads Michigan Auto Law—a firm dedicated to serious motor vehicle accident injury and wrongful death cases.