Latest proposal focuses on doctor and hospital charges for treating auto accident victims, gives attendant care and other No Fault benefits wide berth
Michigan has been a hotbed of efforts by the insurance industry and many Republican legislators to revamp our state's nearly 40-year-old No Fault insurance system. Past proposed No Fault "reform" efforts have been one-sided, heavily favoring the insurance industry at the expense of auto accident victims.
Here's a list of proposed bills introduced over the last several years.
But it seems Democrat and Republican lawmakers may be getting close to a compromise. After Senate Republicans pushed their No Fault plan (Senate Bill 248) through the Senate only to see it stall before the full House of Representatives, they're refining their approach.
Divide and conquer?
Senate Bill 313 was introduced by Sen. Marty Knollenberg (R-Troy) on May 5, 2015 while SB 248 remains stalled in the House.
The new bill has removed many of the proposals that would savage severely injured auto accident victims, such as limits on time and rates for attendant care, found in its predecessor, SB 248.
SB 313 aims to do only one thing:
Impose limits on what doctors and hospitals can charge under the state's No Fault law.
Specifically, SB 313 would do the following:
Doctors/hospitals treating car crash victims who are covered by No Fault "must be reimbursed a reasonable amount" for their services and treatment.
Doctors/hospitals treating car crash victims who are covered by No Fault

"must not be reimbursed an amount that exceeds the amount the person or institution is customarily reimbursed

for like products, services, and or accommodations." [Emphasis added]
Doctors/hospitals treating car crash victims who are covered by No Fault

"shall not seek reimbursement in an amount that exceeds the amount the person customarily is paid

for rendering like treatment" to non-car crash victims. [Emphasis added]
If a car crash victim's health insurance company has been paying for his crash-related medical expenses under a coordinated No Fault auto insurance policy AND if the crash victim's doctor/hospital has been accepting those payments, then when the crash victim's health coverage is "exhausted," his doctor or treating hospital "shall not seek reimbursement from [his No Fault] insurer … in an amount that exceeds the amount the [doctor/hospital] previously was paid for the same or similar treatment by the" health insurer.
Would SB 313 affect auto accident victims currently receiving No Fault benefits?
If SB 313 is enacted, it will have "prospective" application to only those auto insurance claims that arise after the changes to the No Fault law have taken effect as it is currently drafted:
"This amendatory act applies to policies, certificates, and contracts delivered, executed, issued, amended, adjusted, or renewed in this state, or outside of this state if covering residents of this state, beginning after the date this amendatory act is enacted into law."
In other words, it would not apply to accident victims who are currently receiving No Fault benefits. It would only apply to people who are in auto accidents if and after this law is passed.
As an attorney who litigates No Fault insurance cases in Michigan, I've been following these bills closely.
It's important to note that in one respect at least, SB 313 and SB 248 are very similar: Neither bill does anything to guarantee any type of meaningful savings on auto insurance for consumers. Both bills aim chiefly to increase insurance industry profits.
As to the future, it remains to be seen whether SB 313, if it becomes law, will mark the final word. Perhaps the Republicans and insurance industry, having successfully dealt with the doctors and hospitals and what they charge under No Fault, will then move on and will propose other "No Fault law reforms." With legislation enacted that rewards the hospital and doctors, the loudest and strongest opposition group would be removed, allowing the insurance industry to possibly act on other items it desires.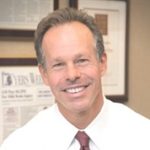 Named a "Leader in the Law" and "Lawyer of the Year" by Michigan's largest legal newspaper for his record-breaking auto accident verdicts, settlements and advocacy work in preventing wrecks, Steven Gursten heads Michigan Auto Law—a firm dedicated to serious motor vehicle accident injury and wrongful death cases.