How new Mercedes-Benz-S-Class may help avoid car accidents
It's worth watching what luxury class car makers are doing, because often the new safety technology that first appears in expensive cars over time becomes ubiquitous and found in all cars. And in the case of Mercedes, there is a new technology that promises to prevent many car accidents in the years ahead as it spreads to other lower-priced cars.
In the case of the new Mercedes-Benz S-Class, this is how it works: If a car swerves in front of the car, a radar and other sensors will detect the car and then activate safety maneuvers to  avoid a crash.
The technology literally looks ahead, and 360 degrees around, to spot potential hazards in the driver's path. A team of standard and optional systems can then alert the driver and even assist in braking. It can even respond autonomously to help avoid collisions with other vehicles – and pedestrians.
I've written about how the future of autonomous, self-driving cars will soon be upon us, and how these cars will prevent countless car crashes and have the potential to save tens of thousands of lives. The technology in the Mercedes-Benz S-Class seems to be a bridge between modern-day driving technology and some of the features that may one day in the next 10-20 years allow cars to drive without people driving them.  These cars literally use radar, sensors, and computers to drive and can intervene on a driver's behalf to prevent a car accident before it can happen.
Watch this video below to see how the Mercedes-Benz S-Class has build-in technology that prevents crashes:
A window into our future?  A bridge between today and Google and other driverless cars?  Maybe.
Related information:
DENSO developing active radar technology to keep drivers safe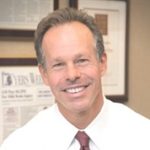 Named a "Leader in the Law" and "Lawyer of the Year" by Michigan's largest legal newspaper for his record-breaking auto accident verdicts, settlements and advocacy work in preventing wrecks, Steven Gursten heads Michigan Auto Law—a firm dedicated to serious motor vehicle accident injury and wrongful death cases.