1 in 4 car accidents now involve cell phones, says new National Safety Council report
Using your cell phone while driving is more dangerous than you think.
Much more dangerous.
One out of every four car accidents now involve the use of cell phones. According to a report from the National Safety Council, one-quarter of all car crashes examined in a recent study involved cell phone use.
Researchers reviewed 180 fatal crashes over a three-year period where there was evidence that the driver was using a cell phone.
The report is uncovering how many car accidents really involve cell phones and distracted driving in the U.S.
The council found that even when drivers said they were using their cell phones at the time of a car crash, the admissions weren't recorded in accident reports that were compiled for use in the national debate on distracted driving, according to a story in The Washington Post, Report: Cellphones cause far more crashes than recorded.
Janet Froetscher, the National Safety Council president, attributed the inaccurate reporting to many factors, including drivers not admitting to their cell phone use.
As a lawyer who only helps people injured in car accidents and truck accidents, I can tell you another important cause. Police almost never investigate to determine if the person who causes a serious motor vehicle accident was using their cell phone, either to text or if they were dialing or making a call at the time.
In fact, last weekend I was helping another lawyer to focus group a horrific truck accident death that occurred very recently in Columbus, Ohio as part of the Truck Accident Attorneys Roundtable. What makes this truck accident case so unusual is that the police looked at the truck driver's cell phone and saw he was texting in the moments before he plowed into the car stopped ahead of him.
In nearly 20 years, that's the first time I've seen police actually check.
In Michigan, teens are banned from using cell phones while driving. And throughout the country, truckers are also banned from using cell phones when they're behind the wheel.
This is a great start, but the ban needs to go further and apply to all drivers. In 2011, the National Transportation Safety Board called for a ban on all cell phone use while driving, but it failed to go any further.
I hope you will remember this staggering statistic. Using your cell phone while driving doesn't just mean texting while driving. It encompasses everything from dialing a phone number, to listening to music, scanning Facebook or looking for directions.
Tell your friends and families how dangerous cell phones are while driving. And please put that cell phone down next time you get behind the wheel.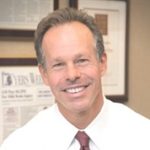 Named a "Leader in the Law" and "Lawyer of the Year" by Michigan's largest legal newspaper for his record-breaking auto accident verdicts, settlements and advocacy work in preventing wrecks, Steven Gursten heads Michigan Auto Law—a firm dedicated to serious motor vehicle accident injury and wrongful death cases.