What happens when you crash into the sharp end of a guardrail?
Most drivers probably don't ever think about guardrails. And if you do, you might think the safety guardrails we see are there to protect us from veering off the road or the other side of the highway. We certainly do not think of safety guardrails as being the cause for a disturbing  increase in a number of fatal car accidents involving guardrails impaling cars.
But fingers – lawyers and otherwise – are now pointed at Trinity Industries, a Dallas, Texas-based company that supplies safety guardrails in most states throughout the country.
Here's where it gets interesting. Trinity altered the design of a guardrail part it sells. But, according to a study released by University of Alabama Birmingham, the new part is four times more likely to be involved in a fatal accident than the predecessor design.
Now several states across the U.S. have banned further installation of the guardrail device.
Those states include Missouri, Nevada and Massachusetts, according to a recent story in The New York Times, "Highway Guardrail May Be Deadly, States Say."  Lawsuits say the guardrails were to blame for five deaths, and many more injuries, in at least 14 accidents throughout the U.S.
The problematic guardrail-end treatment is a device called ET-Plus.:
"It has a blunt face that caps the end of a W-beam guardrail… a flat steel plate that is designed to slide along the W-beam upon impact, absorbing energy and guiding the rail away from the vehicle in a flat ribbon. The concern is that the new, narrower design might prevent the end terminal from traveling along the rail, and that it would instead bind up and impale cars," according to a recent article on Car and Driver.
The New York Times story points to a cover up of safety concerns involving the guardrails from Trinity and, even more disturbingly, from the Federal Highway Administration. The Federal Highway Administration is the federal agency charged with ensuring the safety of the nation's roads. Meanwhile, the FHA states the Trinity guardrails meet crash-test criteria. Trinity also denies a problem in published reports.
Related information:
What to do at the scene of an auto accident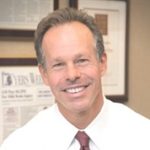 Named a "Leader in the Law" and "Lawyer of the Year" by Michigan's largest legal newspaper for his record-breaking auto accident verdicts, settlements and advocacy work in preventing wrecks, Steven Gursten heads Michigan Auto Law—a firm dedicated to serious motor vehicle accident injury and wrongful death cases.