State Farm demands disabled man buy insurance for his motorized wheelchair that doesn't even exist, denying him medical care and No Fault benefits
State Farm has pulled an unbelievable dirty trick on a disabled man who was hit by car while crossing the street in his motorized wheelchair.
The insurer is refusing to pay No Fault benefits to Mr. George Veness of Shelby Township, Michigan because Mr. Veness didn't have Michigan No Fault auto insurance – for his motorized wheelchair.
Here's a link to a recent news report from Jameson Cook of The Macomb Daily.
State Farm's legal position is that Mr. Veness's motorized wheelchair is a "motor vehicle," therefore he was uninsured and is not entitled to No Fault insurance benefits that he would receive since he was hit by a car under Michigan law. State Farm says any wheelchair or any motorized scooter should have No Fault insurance just like a car or truck – even though there is presently no insurance company that is even selling such a coverage, including State Farm.
And because Mr. Veness was "driving" his wheelchair (according to State Farm) without such automobile insurance, State Farm further contends that he should be denied all No Fault PIP benefits, such as reimbursement for his medical expenses and a surgery he desperately needs.
Under the Michigan No Fault law,  Mr. Veness would be entitled to No Fault because he was struck by a car in his wheelchair. Therefore, he's able to bring a PIP claim for his No Fault benefits from the at-fault vehicle that struck him.
The giant insurer, along with Farm Bureau Insurance Company – the insurance company that insured the car that hit Mr. Veness – also says he should be further barred from bringing a pain and suffering lawsuit under Michigan's auto laws.
Is this a sign of things to come? Will State Farm be saying all of the approximately quarter million elderly and disabled people in scooters and wheelchairs across the nation today are uninsured?
For more information and insight from auto insurance industry insiders, take a look at my recent blog "Do you need No Fault insurance for wheelchairs?"
Mr. Veness has used a motorized wheelchair since a 2004 work accident left him paralyzed from the waist down.
State Farm's legal position in the Veness case is absolutely outrageous. It discriminates against the elderly, the disabled and anyone who uses a motorized wheelchair in Michigan.
For example, members and patients of the following groups would be drastically affected (i.e., they would be transformed into "uninsured motorists" for riding in their wheelchairs) if State Farm's distorted legal interpretation of the No Fault law were accepted:
AARP Michigan
Michigan Paralyzed Veterans of America
Disability Network of Michigan
Michigan Office of Services to the Aging
Michigan State Medical Society
Brain Injury Association of Michigan
Eisenhower Center
Mary Free Bed Rehabilitation Hospital
Hope Network
Walk The Line To Spinal Cord Injury Recovery
Rainbow Rehabilitation Centers
Michigan Spinal Cord Injury Association
To read more of my legal analysis about this astonishing case, take a look at my recent blog post:
Are all elderly and disabled people in Michigan who use motorized wheelchairs "uninsured drivers"?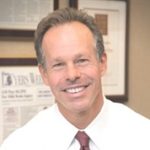 Named a "Leader in the Law" and "Lawyer of the Year" by Michigan's largest legal newspaper for his record-breaking auto accident verdicts, settlements and advocacy work in preventing wrecks, Steven Gursten heads Michigan Auto Law—a firm dedicated to serious motor vehicle accident injury cases and wrongful death lawsuits.