Why Sen. Rick Jones' idea to increase speed limits will cause more car accidents
Is saving a few minutes on travel time worth the number of people who will die in  car accidents in Michigan?
That is the grisly cost-benefit analysis involving human life that the Michigan Department of Transportation (MDOT) and the Michigan State Police must now weigh after Sen. Rick Jones (R, Grand Ledge) has announced he is working on legislation to increase speed limits to up to 80 mph. The bill is in the works, but it could raise speed limits across the state.
While Sen. Jones claims increasing the Michigan speed limit will not put drivers in any added danger, simple  physics promises otherwise.
As one study by the Insurance Institute of Highway Safety, "Relation of Speed and Speed Limits to Crashes" by Susan Ferguson, Ph. D. (June, 2005), concluded:
Increases in speed limits also increase the severity of crashes, serious personal injuries and the risk of a driver being killed.
Here are a couple more important points from the study:
The relationship between vehicle speed and crash severity is unequivocal and based on the laws of physics.
Reductions in speed limits reduce vehicle speeds and crashes.
If Michigan increases its speed limit laws,  it follows with  absolute scientific certainty that more people will die and more people will more seriously  injured in car accidents due to the higher speeds of the vehicles involved.
And then we get to the dangers posed by cell phones and driver distraction.  Increasing speed limits means decreasing the time that drivers have to avoid a car accident by narrowing the window to perceive and react to a danger.
New studies suggest that as many as  one quarter of all car accidents now involve cell phones and that distracted driving is more dangerous than drunk driving.
When we combine the dangers of  speeding with the dangers of distracted driving, that vital safety cushion all but disappears.
Consider this  example:
A car traveling at 55mph is traveling at approximately 80 feet per second.  But a car traveling at 80 mph is now traveling at around 120 feet per second. Assuming driver perception/reaction time of approximately 1.5 seconds (which is the average), that car has now traveled 240 feet before that driver can be able to perceive a danger and be able to react to it.
That 240 additional feet that the car travels in that 1.5 seconds due to an increased speed limit of 80mph means that the  distracted driver who looking down and  texting in the car behind your vehicle is now traveling 80 mph or 120 feet per second.  When that driver suddenly looks up and sees your car in traffic in front of him, it is too late.
Not only is the collision between the two vehicles significantly less avoidable because of the increased speed limit, but the resulting injury or death will be far worse at a higher speed.
That's not an opinion.
That's simple physics.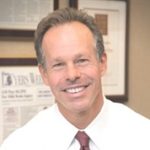 Named a "Leader in the Law" and "Lawyer of the Year" by Michigan's largest legal newspaper for his record-breaking auto accident verdicts, settlements and advocacy work in preventing wrecks, Steven Gursten heads Michigan Auto Law—a firm dedicated to serious motor vehicle accident injury cases and wrongful death lawsuits.