"Mild" TBI after a car accident is actually not mild at all.
Attorney Steven Gursten will be speaking on MTBI and how it affects people injured in car accidents during a national webinar for the American Association for Justice October 14.
Gursten, a car accident lawyer and trial attorney at Michigan Auto Law (with law offices in Metro Detroit), will be sharing litigation tips, tactics and strategies involving MTBI litigation. His presentation is called "Proving Mild Traumatic Brain Injury in Auto Negligence Cases."
Gursten says "mild" brain injury started as a medical classification, but that one little word has been responsible for more "no causes" and people with legitimate injuries being shunned from courtrooms by juries than anything in auto accident litigation today. And that's why lawyers who are trying to prove MTBI in a negligence car accident case must learn, understand and effectively explain the symptoms, the medical literature and the real-life hardships mild brain injury causes.
What exactly is MTBI?
A mild traumatic brain injury (MTBI) is a medical classification for a type of traumatic brain injury.
Still, it's a potentially very serious condition, and cannot be taken lightly.  And it doesn't mean the auto accident victim's disabilities and impairments are also "mild."
The American Congress of Rehabilitative Medicine defines mild traumatic brain injury by at least one of the following symptoms:
Any period of loss of consciousness;
Any loss of memory for events immediately before or after the accident;
Any alteration in mental state at the time of the car accident such as feeling dazed, disoriented or confused and;
Focal neurological deficits that may or may not be transient.
Related info: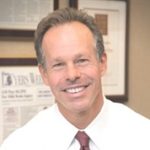 Named a "Leader in the Law" and "Lawyer of the Year" by Michigan's largest legal newspaper for his record-breaking auto accident verdicts, settlements and advocacy work in preventing wrecks, Steven Gursten heads Michigan Auto Law—a firm dedicated to serious motor vehicle accident injury cases and wrongful death lawsuits.