The promise of a miracle development for car accident victims with spinal cord injury
For people with a spine injury from a car accident, something as small as the wiggle of a toe can seem a miracle. So imagine the excitement when a research project involving the application of electrical stimulation to broken spinal cords unexpectedly enabled a spinal cord injury survivor to voluntarily wiggle his toes. Imagine what this may bode one day for hundreds of people paralyzed in car accidents and other serious traumas who may one day regain movement.
Neuroscientist Susan Harkema of the University of Louisville said her research project was meant to learn more about nerve pathways, not to actually make patients move. Over the past five years, her team has applied e-stim to four paralyzed men, and they all development substantial movement, including wiggling their toes, lifting and swinging their legs, moving their ankles and sitting up without support. Two patients can even do sit ups.
Take a look at this video from CNN, which shows Dustin Shillcox, a paralyzed man, move his leg with Harkema's treatment:
You can read about this groundbreaking study, which is being funded in part by the Christopher and Dana Reeve Foundation in Brain: "Altering spinal cord excitability enables voluntary movements after chronic complete paralysis in humans" 
The medical technology involves surgically implanting a stimulator and giving it directions with an external remote control. The stimulator creates a small, slightly visible bulge in the lower abdomen and is connected to wires that send electrical pulses to the spinal cord.
It's not the first time electrical stimulation has made paralyzed patients move, but Harkema says it's the first time electrical stimulation directly to the spinal cord has shown voluntary activity. Medical experts say this new technique is another piece of the puzzle toward helping paralyzed people walk again. And it's another avenue doctors can go down to try to help these patients, according to a recent CNN article, "Spinal cord work is unexpected shocker: 'This is a breakthrough.'" 
The study abstract states:
"We demonstrate that neuromodulating the spinal circuitry with epidural stimulation, enables completely paralysed individuals to process conceptual, auditory and visual input to regain relatively fine voluntary control of paralysed muscles. We show that neuromodulation of the sub-threshold motor state of excitability of the lumbosacral spinal networks was the key to recovery of intentional movement in four of four individuals diagnosed as having complete paralysis of the legs."
As a lawyer who primarily helps people hurt in serious car accidents, I've represented many people with serious spinal cord injuries. In some cases, I've had to travel across the country to various rehabilitation centers to do it. So many automobile accident victims still must fight with insurance companies just to continue physical therapy so they can maintain what little movement they may have left, and to prevent deteriorating health. These people are turned away by insurance companies who will not cover continuing therapy and other medical treatments that have the ability to return movement and function. Already, the Michigan Supreme Court has weighed in against such promising, but "experimental" treatments as stem cell treatment.
This is a fundamentally new intervention strategy that can dramatically affect recovery of voluntary movement in people with complete paralysis — even years after injury and trauma. Over 1,700 people have inquired about using this technology. It promises to one day develop into a mainstream solution for returning people with SCI to remarkable function.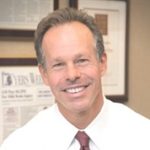 Named a "Leader in the Law" and "Lawyer of the Year" by Michigan's largest legal newspaper for his record-breaking auto accident verdicts, settlements and advocacy work in preventing wrecks, Steven Gursten heads Michigan Auto Law—a firm dedicated to serious motor vehicle accident injury cases and wrongful death lawsuits.